Larch Corrections Center (LCC)

Facility Alerts & Notices
Before visiting, check this page for notices and alerts that may impact your travel plans.
Wednesday, May 31, 2023: State and contract crews will be performing maintenance on the road leading from Rawson Road to Larch Corrections Center between May 30 through June 30. Work will include concrete cutting, pothole excavation, and pothole subgrade repair. This work is necessary to improve safety and restore the functionality of the road. Traffic control crews will be present during work to protect the safety of drivers and workers. Expect delays due to single lane and double lane closures. This is Phase 1 of a multi stage project, notification will be provided before subsequent stages. At the conclusion of this phase the roadway will have patches of gravel in preparation for pavement patching, please drive with caution.
Heat Mitigation Effort: The Department of Corrections has published general guidance to facilities on strategies they may follow for heat mitigation when necessary.
LCC Visiting Information
Visitor Application Process
To visit an inmate, you must complete the visitor application process. Go to the Prison Visits webpage for information about what is required in your specific circumstances to complete the visitor application process.
The visitor application process must be completed for both Prison Visits and Video Visits.
Visitor Guidelines
The general guidelines that are applicable to all prison facilities is detailed in DOC Policy 450.300 Visits for Incarcerated Individuals (pdf). LCC also has its own Visitor's Guidelines (pdf) detailing important notices, visiting rules, guidelines for all visits (prison and video), and regular visiting hours for each housing unit.
LCC's Regular Visiting Hours have also been published below as a quick reference for your convenience.
Local Family Council
Larch is always looking for family members that are willing to participate in our Local Family Council (LFC). LFC is an opportunity for family members to serve on an advisory board, working side-by-side with our Superintendent, Correctional Program Manager (CPM), Captain, Community Participation Program Coordinator (CPPC), and visiting staff to enhance and improve the family experience with your loved ones. Whether it's regular or extended family visiting, Family Friendly, Religious, or Cultural events, education and work programs, or daily living, we encourage council members to work with us in finding ways to create better connections for you and your incarcerated family member in order to promote growth and development for them personally and to strengthen family bonds. If you are interested, please review the membership process.
Family Friendly Events
Many family friendly events are hosted at LCC. Please refer to the LCC Family Friendly Events Calendar for information regarding upcoming scheduled events.
Regular Visiting Hours
Below are the regularly scheduled visiting hours for each unit that accepts visitors at LCC. Regular visiting hours are subject to change due to unplanned incidents, as well as scheduled events. Please check facility alerts & notices, as well as the Family Friendly Events Calendar (pdf) and Visitor's Guidelines (pdf) for information that may impact your travel plans.
Visitors can begin check in during the following timeframes, 7:30 a.m. - 8:00 a.m., 9:30 a.m. - 10:00 a.m., and 11:30 a.m. - 12:00 p.m.
| Friday | Saturday | Sunday | Monday |
| --- | --- | --- | --- |
| 8:00 a.m. - 3:00 p.m. | 8:00 a.m. - 3:00 p.m. | 8:00 a.m. - 3:00 p.m. | 8:00 a.m. - 3:00 p.m. |
Video Visiting Hours
Per Video Visit Expectations (pdf), video visits will be scheduled in 30 minute increments and may not exceed one hour in duration. Video visits may be scheduled by an approved visitor through Securus at least 24 hours in advance.
Securus Terminal
Days
Time
Daily:
8:00 a.m. – 9:00 a.m.
10:00 a.m. – 11:00 a.m.
12:00 p.m. – 1:00 p.m.
2:00 p.m. – 3:00 p.m.
4:00 p.m. – 4:30 p.m.
6:00 p.m. – 7:00 p.m.
8:00 p.m. – 9:00 p.m.
10:00 p.m. – 10:30 p.m.
Facility Programs
Academic & Partnership Programs
Adult Basic Education/General Education Development (GED)
Growth Programs
Arts for Healing
Cultural
Family Friendly
Re-entry Preparation
Religious/Spiritual
Research Based Programs
Strength in Families
Thinking for a Change (Cognitive Behavioral Intervention)
Work & Vocational Programs
Small Business Basics

Business Core
Supervisory Management

Waste Water Training and Certification
Community Involvement
Larch Corrections Center has 27 community volunteers that support religious/spiritual, resident growth and development, re-entry, sustainability, and Family Friendly activities. We are always looking for new volunteers to assist in these programs and can do so by contacting the Chaplain and/or our Community Participation Program Coordinator (CPPC). These connections not only help our staff and residents, but build strength and acceptance for our men as they prepare to return to their families and communities in Washington State.
Clark College is a strong collaborator for our facility, providing residents basic education courses to attain their General Equivalency Diploma (GED), as well as, vocational skills training/certification to enhance employment opportunities upon release.
Evergreen College's Sustainability in Prisons Project along with the Oregon Zoo have helped to create and support sustainability programs, such as, rehabilitation of the Western Pond Turtle, Beekeeping, plantain for Oregon Zoo butterflies and soon, Woodpecker research through environmental literacy programs and development of special skills. Larch also engages in the socialization and basic training of canines and felines through the Humane Society of Southwest Washington (HSSW). Residents earn certifications while working with volunteers and an animal behaviorists to teach rehabilitation and socialization techniques to address individual animal's needs, promoting an opportunity for these wonderful animals to find their forever homes.
It is these types of community relationships that enhance the camp environment for the residents, while creating a better awareness of how our local communities play an important role in the successful transition of our incarcerated population.
Larch Superintendent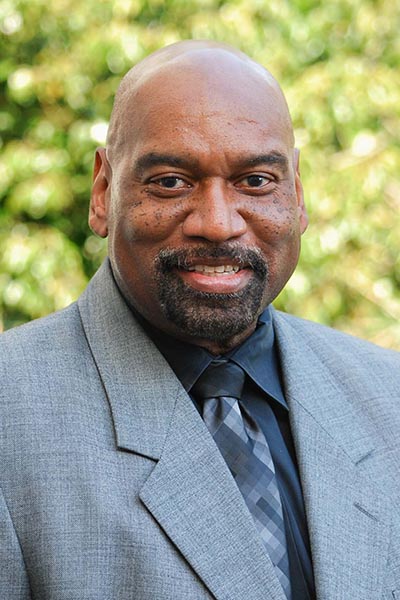 Superintendent JC Miller
JC Miller began his career with the department as a corrections officer at Washington State Penitentiary in 1993 and later transferred to Airway Heights Corrections Center, where he promoted to correctional sergeant and was part of the Emergency Response Team. In 1996, he was promoted to classification counselor 2 and maintained that position after transferring to Cedar Creek Corrections Center in 1998. In 2000, Miller transferred to Stafford Creek Corrections Center where he was promoted to a correctional unit supervisor, and later held the same position at Coyote Ridge Corrections Center. There he successfully piloted the Thinking for a Change program. In 2016, Miller promoted to Larch Corrections Center as correctional program manager. Miller has approximately 29 years of experience within correctional systems.
In September 2019, Miller began the role of interim superintendent of Larch Corrections Center in Yacolt, Wash. and was appointed superintendent on January 27, 2020.
Miller earned his Bachelor's Degree in Criminal Justice from Bellevue University in Nebraska.