KUBI Camp Returns After COVID Hiatus
October 4, 2023
By Chris Wright

(email)
Communications Office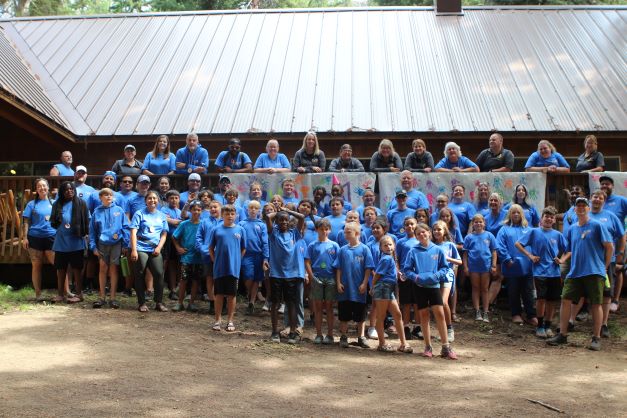 KUBI Camp counselors and campers at Camp Dudley in August. (Photo courtesy of Chris Wright, Communications Office)
Camp Dudley, a picturesque YMCA camp on the shores of Clear Lake east of White Pass, has sat eerily quiet in mid-August since 2019. The pandemic forced the shutdown of the annual Kids United by Incarceration (KUBI) Camp, but it made a boisterous return this summer. The sound of silence was replaced by dozens of kids joyously playing dodgeball and volleyball, rock climbing, boating and even sounding the sirens on one of DOC's emergency response vehicles.
"We are super excited to be back after COVID," said Reentry Division Assistant Secretary Danielle Armbruster. "It was really important to us to be able to host camp again. I think it's critical, also for our staff, to find that connection to do what we do. It's about supporting kids and supporting families."
Roughly 100 children of incarcerated individuals applied and nearly 40 were selected to attend the four-day camp that is funded by the Incarcerated Individual Better Fund. While spending time in the great outdoors is something Pacific Northwest natives may take for granted, the awe on the faces of the kids at KUBI camp was obvious.
"Sometimes it's the first opportunity for these kids to experience anything outside their home environment," said Armbruster.
In between archery, swimming and arts and crafts, the campers all wrote letters to their incarcerated parents. While their loved ones are always at the forefront of their mind, KUBI Camp also afforded them the opportunity, for a few days at least, to forget the struggles that come with having a family member in prison. Organizers say bonding with other kids who are enduring similar situations can be a huge boost for their self-confidence.
"At the end of the day, it's about making sure the kids feel loved and supported and that we believe in them and that we want to see them successful when they go into the community," said Armbruster.
And for everyone involved with KUBI Camp, it was great to be back.