Reentry Assistant Secretary Wins Prestigious Award as Washington Hosts National Corrections Conference
May 17, 2023
By Lukas D'Ambrosio

(email)
Department of Corrections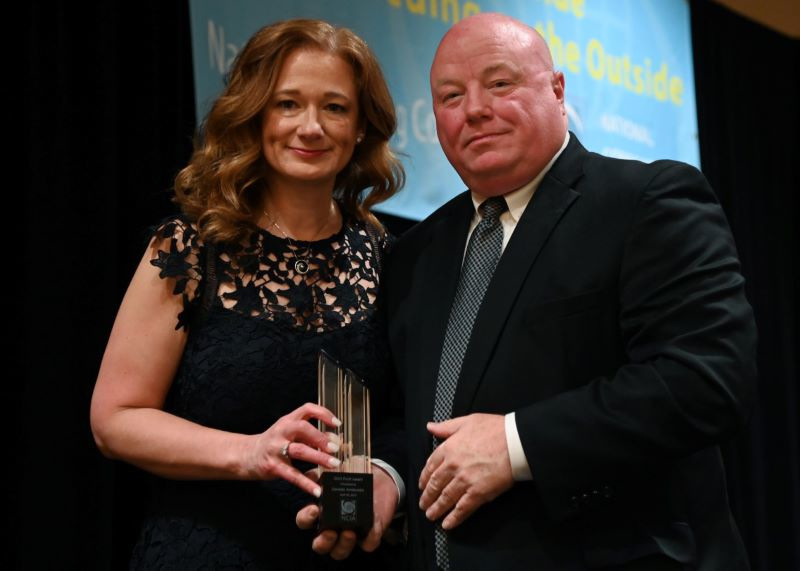 Danielle Armbruster poses with NCIA President Bobby Lumpkin after winning the Rodli Award (Photo courtesy of Lukas D'Ambrosio, Communications Office)
The Washington State Department of Corrections' very own Danielle Armbruster won the prestigious Rodli Award at this year's National Correctional Industries Association (NCIA) conference in Bellevue, Washington.
Armbruster, who serves as the Assistant Secretary of Reentry, was recognized for her outstanding contributions to the field of corrections and her leadership in implementing innovative programs to support successful reentry.
"I think I have the best job in the world, and I'm honored to represent Washington State DOC and NCIA," Armbruster said. "I believe in the work we do and our shared mission. I believe in giving people a second chance and instilling hope in the individuals we serve and creating pathways for their future beyond incarceration to be successful."
Each year, the NCIA hosts a national conference where members and corporate sponsors from all over the country can come together to share ideas and workshop best practices for incarcerated individuals. The NCIA's mission is to promote excellence in Correctional Industries through professional development and innovative solutions shared between members.
"It was an honor for Washington state to host the 2023 NCIA conference," said Reentry Project Manager, Kelsey Eagan. "Over a year of planning went into this event and it was great to see all the hard work come to fruition."
In accepting the Rodli Award, Armbruster expressed her gratitude and credited her colleagues and partners for their contributions to the success of her programs. She highlighted the importance of collaboration and urged the correctional community to continue working together to advance the field of reentry.
"It's not just about giving people a second chance; It's about giving them a fair one," Armbruster said in her acceptance speech.
During her tenure, Armbruster has been a driving force in improving the reentry process for incarcerated individuals, focusing on evidence-based practices that reduce recidivism and increase public safety. She has also been a strong advocate for the role of correctional industries in preparing offenders for successful reentry.
The Rodli Award is given annually to recognize individuals who have demonstrated outstanding leadership and made significant contributions to the field of correctional industries through developing and implementing programs that provide education, training, and job opportunities to incarcerated individuals, with the ultimate goal of reducing recidivism and promoting successful reentry into society.
The best ending to an already great week was Danielle winning the Rodli award with her family and colleagues surrounding her," Eagan said.
Next year's NCIA conference will be held in Dallas, Texas April 29th – May 2nd.