Therapeutic Training Is Helping Incarcerated Achieve Sobriety
February 15, 2023
By Brendan Baptiste

(email)
Department of Corrections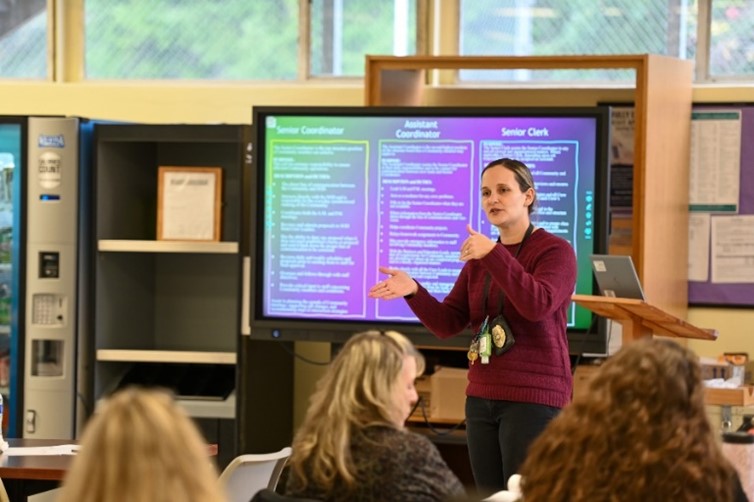 Therapeutic Communities Assistant Meghan Rose leads a class on Therapeutic Community training. (Photo courtesy of Brendan Baptiste, Department of Corrections)
The Therapeutic Community Training program has made its return to prisons across the state after a four-year hiatus due to the COVID-19 virus. Therapeutic Community (TC) is a drug treatment program designed to help incarcerated individuals manage their sobriety while serving their time. Participants will acquire tools and skills to help them succeed in their sobriety and build some basic structure and fundamental concepts as they move on with their lives outside of prison. Staff members are also receiving training to better assist participants in the program. The more they know, the more they can provide support to help ensure success.
Training for staff was held at Mission Creek Correctional Center for Women (MCCCW). Led by Correctional Specialists Judy Patton, Michelle Merrill and Therapeutic Communities Assistant Meghan Rose, staff were reintroduced to how the TC program works, and stressed the high value the program had on incarcerated individuals who are looking for a lifestyle change. Staff reviewed placement, requirements for participants, benefits, components and structure. Participants included mental health professionals, substance abuse recovery unit, substance use disorder professionals, classifications staff, correctional unit supervisors, sergeants and correctional officers.
On the last day of training, MCCCW held a graduation for incarcerated individuals who were finishing their time in the program in anticipation to their release date. This emotional ceremony was filled with excitement, comradery, and optimism for the future for many of the ladies involved. As each one took the podium to address the crowd, they spoke highly of staff who helped them along the way. We also gave words of encouragement to their peers who also provided support during their journey.
For some, this was their first time working in the program. Others have faced multiple sentences and have participated in the program before. Many shared the same narrative; sobriety will keep me home with my family.
"We come in here broken, we come in here beat up, and there is no bigger critic than ourselves," says Angela Grant. "And what the program has done for me is taught me my worth. I am enough. I do deserve the great things that life has to offer but that comes with following the rules and putting my best foot forward every day. For some people its not easy to do. Today, my life is hard, but my sobriety is worth every bit of it."
Angela will be released on her 50th birthday. She expressed at her age she doesn't have enough time left to continue life behind bars. She needs to stay sober for her family and she has a plan. She has already taken the beginning steps in becoming a substance use disorder professional, the same job as the ones who helped her during her journey. Staff expressed their excitement in the hopes to one day join their team. She believes her lived experience will bring the credibility needed to connect to those who will soon look to her for guidance. "I want to give back to something that has taken away so much from me. I have so much to offer others by not only talking the talk but by walking as well", says Grant.