A Message for Our Business Partners
The Department of Corrections (DOC) is taking steps to increase the level of security relating to email messages that may include confidential or restricted data

.Some examples of this are messages that include a social security number (SSN) or victim/witness information.
As part of these steps, DOC is implementing a new Secure Email Portal. Outbound email messages from DOC staff that contain confidential or restricted data will be routed to this portal. Once an encrypted message has been sent, you will receive notification informing you that there is a secured email waiting for you.
Retrieve Notification Email: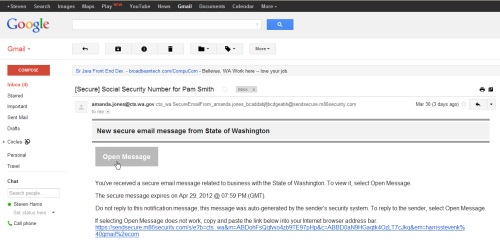 Click on the Open Message button, which will take you to the new registration page.
Enter a password that meets the requirements posted on that page.
Click the Register button, which will route you to your secure email messages.
Once you have successfully registered and established a password, any future secured email correspondence from DOC will only require you (the registered user) to enter your established password.
Complete instructions for secure email(pdf) are available online.
Customer Support
If you need help accessing your secure email message using this secure messaging system, please contact the Washington State Consolidated Technology Services (CTS) Service Desk. The service desk is available 24/7, including holidays.
If your questions focus on the topic of your secure email message, please contact whoever sent you the message and ask them for assistance.