Coyote Ridge Corrections Center (CRCC)

Facility Alerts & Notices
Before visiting, check for notices that may impact your travel plans. For visitation cancellations, you can follow

@WADOCVisits on Twitter.
Effective Thursday, December 24, 2020: If a correctional facility is experiencing an outbreak, it may need to move incarcerated individuals' housing locations. During these occasions, there may be some interruptions to pre-scheduled video visitations as these moves occur. If delayed, these video visits will be rescheduled as soon as it is safe to do so.
Effective Thursday, December 10, 2020: Corrections has temporarily suspended the acceptance of new Extended Family Visit (EFV) applications...see 12/11/2020 memo

(pdf)

.
Effective Friday, March 20, 2020: Corrections is temporarily suspending all volunteer access and associated services at all prison facilities...see COVID-19 facility alert details

(pdf)

.
Effective Friday, March 13, 2020: Corrections is working to implement enhanced screening protocols...see COVID-19 facility alert details

(pdf)

.
Contact & Location
At A Glance
Local Family Council
DOC Policy 530.155 Family Councils

Custody Level: Minimum,
Medium & Long-term Minimum
Living Units & Custody Levels
Capacity: 2,468 male inmates
Year Opened:
Minimum Security – 1992
Medium Security – 2009
CRCC Visiting Information
Visitor Application Process
To visit an inmate, you must complete the visitor application process. Go to the Prison Visits webpage for information about what is required in your specific circumstances to complete the visitor application process.
The visitor application process must be completed for both Prison Visits and Video Visits.
Visitor Guidelines
The general guidelines that are applicable to all prison facilities is detailed in DOC Policy 450.300 Visits for Incarcerated Individuals

. CRCC also has its own Visitor's Guidelines

detailing important notices, visiting rules, guidelines for all visits (prison and video), and regular visiting hours for each housing unit.
CRCC's Regular Visiting Hours have also been published below as a quick reference for your convenience.
REMINDER: MSC visitors may arrive on grounds and park in the designated visitor parking lot no sooner than 11:30 a.m. Visitors are to remain in their vehicles until 11:50 a.m. at which time you may enter Pubic Access and pull a ticket. You will not be allowed to enter CRCC Public Access any sooner than 11:50 a.m.
Family Friendly Events
Many family friendly events are hosted at CRCC. These events may disrupt regularly scheduled visiting hours. Please refer to the CRCC Family Friendly Events Calendar

for information regarding upcoming scheduled events.
Criteria for Inmate Participation in Family Friendly Events
CRCC has adopted the following criteria for determining whether an inmate may or may not participate in a family friendly event.
When an activity or event is primarily intended for minors to participate:

Inmates with sex offenses (EVER) committed against a minor, without regard to the current visitation privileges with their own children, will not be approved for participation in family friendly events directed specifically toward minors.
Inmates must have children on their Approved Visit List, and one or more of the minor child(ren) must be present for the event.
Inmates intending to attend must have a clear conduct (no serious infractions/rule violations) in the past six months

When an activity is intended for adults (significant women day or significant men day):

Children will not be allowed to attend, and
Inmates will be eligible for participation provided they have clear conduct (no serious infractions/rule violations) in the past six months.
Regular Visiting Hours
Below are the regularly scheduled visiting hours for each unit that accepts visitors at CRCC. Regular visiting hours are subject to change due to unplanned incidents, as well as scheduled events. Please check facility alerts & notices, as well as the Family Friendly Events Calendar

and Visitor's Guidelines

for information that may impact your travel plans.
---
---
Facility Programs
Academic & Partnership Programs
Adult Basic Education
Dog Training & Adoption Program
Inside Outside Dads
Religious Activities
Research Based Programs
Moral Reconation Therapy (MRT)
Work & Vocational Programs
Auto Repair
Building Maintenance
Community Work Crews
Correctional Industries (CI) employs offenders in their Laundry Operation, Textiles Factory, Pillow/Mattress Factory, Food Factory and Pheasant Farm
Food Service
Groundkeepers
HVAC
Information Technology
Janitorial
Job Search
Motor Pool
Welding
Community Involvement
Serving the Community
Several community work crews employ offenders, supervised by trained correctional officers to provide services to surrounding communities at a reduced cost. Public agencies and non–profit organizations hire offender crews to maintain properties, buildings, parks, roads, water lines and sewage systems.
Art in Public Places
The Art in Public Places (AIPP) program facilitates the acquisition, placement, and stewardship of artwork in state-funded building projects throughout Washington. The Washington State Legislature established the AIPP program in 1974 to acquire artwork for educational institutions and state agencies, funded by ½ of 1 percent of the state's portion of construction costs. Today, the State Art Collection includes more than 4,700 artworks.
Coyote Ridge Superintendent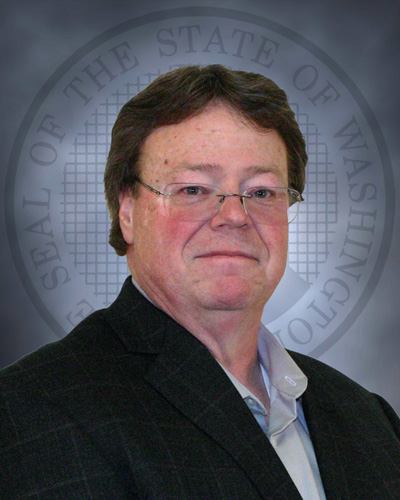 Superintendent
Jeffrey A. Uttecht