Airway Heights Corrections Center (AHCC)

Facility Alerts & Notices
Before visiting, check for notices that may impact your travel plans. For visitation cancellations, you can follow

@WADOCVisits on Twitter.
Effective Monday, April 18, 2022: Visiting for M-Unit is closed until further notice.
Effective Friday, March 18, 2022: AHCC visitation will resume for individuals housed on all recovered living units in the Main facility. Approved visitors of all ages are now able to schedule a contact visit for up to three hours except where prohibited by policy.
Effective Sunday, March 6, 2022: AHCC MSU visitation will resume. Approved visitors of all ages are now able to schedule a contact visit for up to three hours except where prohibited by policy.
AHCC Visiting Information
Visitor Application Process
To visit an inmate, you must complete the visitor application process. Go to the Prison Visits webpage for information about what is required in your specific circumstances to complete the visitor application process.
The visitor application process must be completed for both Prison Visits and Video Visits.
Effective September 1, 2021, scheduling of Extended Family Visits (EFV) will begin with COVID-19 precautions in place. Please fill out the AHCC EFV Schedule Request (MS Word) to request a scheduled EFV time. Please see the attached memo (pdf) for additional information.
Visitor Guidelines
The general guidelines that are applicable to all prison facilities is detailed in DOC Policy 450.300 Visits for Incarcerated Individuals (pdf). AHCC also has its own Visitor's Guidelines (pdf) detailing important notices, visiting rules, guidelines for all visits (prison and video), and regular visiting hours for each housing unit.
AHCC's Regular Visiting Hours have also been published below as a quick reference for your convenience.
Family Friendly Events
Many family friendly events are hosted at AHCC. These events may disrupt regularly scheduled visiting hours. Please refer to the AHCC Family Friendly Events Calendar (pdf) for information regarding upcoming scheduled events.
Regular Visiting Hours
JPay Kiosk

| Days | Time |
| --- | --- |
| Visitors check availability through JPay | Visitors check availability through JPay |
Facility Programs
Academic & Partnership Programs
Adult Basic Education
Dog Training & Adoption Program
General Education Development (GED)
Victim Awareness
Research Based Programs
Stress & Anger Management
Work & Vocational Programs
Aerospace Composites
Bindery
Business Technology
CAD Drafting and Design
Computer Refurbishing
Food Service
Job Search
Maintenance (custodial, plumbers, painters, home builders, laundry, upholstery)
Optical Lab
Teacher's Aides
Upholstery
Community Involvement
Airway Heights encourages supervised interaction between community members and incarcerated persons.
Family Events
The Community Partnership Program and volunteers from the community are dedicated to providing events, projects, and programs to inmates and their families. These include Book Fairs, Family Craft Events, Santa Comes to Visiting, Day with Dad, Family Illness and Eulogy Video, and the Family (Children's) Birthday Party program.
Volunteer Programs
Volunteers are instrumental in assisting in the development of programs aimed at promoting positive changes in personal growth and successful reintegration to society. Volunteer led programs at AHCC include: African American Literature Program, Alcoholics Anonymous (AA), Freedom Project-Non-Violent Communication, Locks of Love, Narcotics Anonymous, PRIDE, Toastmasters International, Eastern Washington University's Writer's in the Community (WITC), Yoga, and multiple faith based programs including special holiday events.
Serving the Community
AHCC prison work crews are a way inmates can give back to the community.
Art in Public Places
The Art in Public Places (AIPP) program facilitates the acquisition, placement, and stewardship of artwork in state-funded building projects throughout Washington. The Washington State Legislature established the AIPP program in 1974 to acquire artwork for educational institutions and state agencies, funded by ½ of 1 percent of the state's portion of construction costs. Today, the State Art Collection includes more than 4,700 artworks.
Untitled, 1993 | Untitled, 1993 | River Rescue, 1993 | Tradition, 1993
Airway Heights Superintendent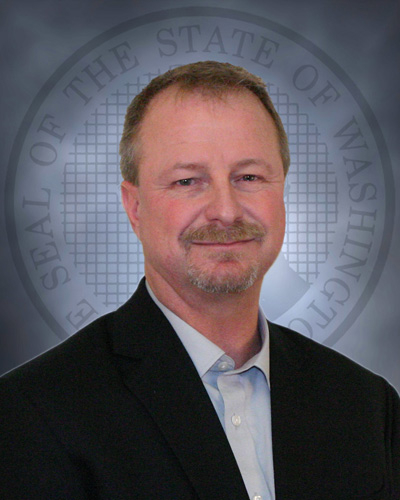 Superintendent James Key
James Key started his career in corrections at Spokane County's Geiger Corrections Center, where he served for 10 years prior to beginning his career with the Washington Department of Corrections' Airway Heights Corrections Center. He started his state correctional work as a correctional unit supervisor and advanced through the positions of administrative program manager and associate superintendent, before being promoted to superintendent on June 1, 2015.
Key earned his associate of arts degree from Wenatchee Valley Community College, and his Bachelor of Arts degree from Eastern Washington University. He is a member of the Community Colleges of Spokane-Criminal Justice Advisory Committee and the American Correctional Association.