Indeterminate Sentence Review Board (ISRB)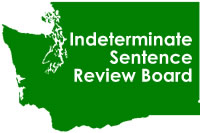 The Indeterminate Sentence Review Board (ISRB or Board) was created in 1986. Before that, the Board had been the Board of Prison Terms and Paroles. The Board is responsible for three types of cases for inmates nearing their parole eligibility or earned release date:
Felony offenders who committed crimes before July 1, 1984 and went to prison
A select group of sex offenders who have committed offenses after August 31, 2001
Certain offenders that committed crimes prior to their 18th birthday and were sentenced as adults
Learn More about the ISRB
The ISRB reviews cases, conducts hearings, oversees supervision violation hearings, and provides services to victims of inmates under the Board's jurisdiction. Explore the following webpages to learn more about the Board and its responsibilities and services:
Stay Informed
If you would like to receive Board meeting minutes by email (monthly, as they are published), sign up for the ISRB Board Meeting Minutes Listserv . Sign up for the ISRB Press Releases Listserv to receive the Board's press releases by email. You may also review emails previously sent by the ISRB at the Listservs.
Board Meetings
Full Board Deliberations
Per ESSB 6242 , the ISRB is required to post decisions and minutes for certain cases under their jurisdiction. This law went into effect on June 9, 2016. We anticipate posting decisions and minutes on the 30th day from the meeting or hearing. Click on the Full Board Deliberation date you are interested in to view the meeting minutes and hearing decisions. If you have questions, please contact the Indeterminate Sentence Review Board (ISRB).
Meeting Minutes & Decisions
August 10, 2016
Minutes
Insyxiengmay, Oloth 735986
August 1, 2016
Minutes
Givens, Larry 297520
June 27, 2016
Minutes
Alishio, Edward 287540
Bidon, Mark 247534
Murphy, Keith 747655
Richards, Travis Dean 747386
Sattler, Richard 127145
Spotted Bear, James 287313
Contact the ISRB for archived meeting documentation.
About ISRB
The Indeterminate Sentence Review Board, formerly known as the Board of Prison Terms and Paroles (or Parole Board), was created in 1986 and is located in Olympia, Washington. It was merged with the Department of Corrections on July 1, 2011.
The Chair and Board Members
are appointed by the Governor to serve five year terms. Staff support the Board by providing case analysis, maintaining inmate records, and providing administrative assistance.